Posts for tag: periodontal disease
By Dental Implant and Periodontal Specialists
January 20, 2019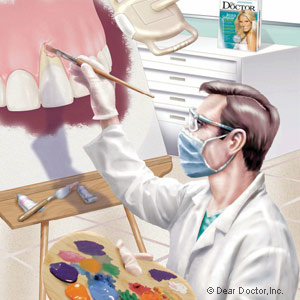 There's only one way to effectively halt the progressive damage of periodontal (gum) disease — completely remove the bacterial plaque and hardened deposits (calculus) from above and below the gum line that are causing the infection. Although we can accomplish this in most cases with hand instruments called scalers, ultra-sonic equipment or both, some cases may require periodontal surgery to access and clean deeper "pockets" of infection.
As this damaging disease progresses, the supporting bone dissolves and the gum tissues will begin to detach from a tooth, leaving an open space known as a "periodontal pocket." Besides plaque and calculus pus may also form as a result of the infection. All of this material must be removed from the pocket before healing and, hopefully, tissue reattachment can begin.
Shallow pockets near the gum line are usually accessed and cleaned with hand instruments. But deeper pockets (5 millimeters or greater in depth) may require a surgical procedure to completely clean the area also allowing for regenerative procedures to be done to regain attachment. This will reduce the depth of the periodontal pockets that will make them more accessible for future cleanings and maintenance. Flap surgery is a common type of such a procedure: a small opening (similar to the flap of a letter envelope) is surgically created in the gum tissue to expose the area of infection around the tooth root and bone.
There are also other types of periodontal surgery for repairing and stimulating regeneration of damaged gum tissues. Using grafts or other enhancements, these plastic surgical techniques are especially useful where gum tissues have receded above the natural gum line, leaving more of the underlying tooth below the enamel exposed to disease. These procedures have become more effective in recent years with the development of specialized technologies called "barrier membranes" and biologic growth factors. These materials have allowed bone grafts to be more successful as this technology is engineered for targeted tissue growth and repair, and then dissolve at an appropriate point in the regeneration process.
Periodontal surgery isn't appropriate for every situation. Still, these procedures do play an important role for many patients to put a halt to the damage caused by gum disease.
If you would like more information on surgical procedures for gum disease, please contact us or schedule an appointment for a consultation. You can also learn more about this topic by reading the Dear Doctor magazine article "Periodontal Surgery: Where Art Meets Science."
By Dental Implant and Periodontal Specialists
August 22, 2018
Periodontal (gum) disease is a serious matter. Not only can it wreak havoc with your gums, it could also cause bone loss in the jaw that supports your teeth.
Gum disease is a bacterial infection that originates from a thin film of food particles on tooth surfaces called plaque. If you're not diligent about removing plaque through daily brushing and flossing, it can become a feeding ground for certain strains of bacteria that trigger gum infections. Left untreated, the disease can advance deeply into the teeth's supporting structures.
We're particularly concerned about furcations, the specific locations where multiple roots of a tooth fork or separate. When these locations become infected we call it a furcation involvement or invasion. The bone along the furcation will begin to deteriorate and dissolve, following a progression of stages (or classes) we can measure by probing the gum tissue or through x-ray evaluation:
Class I: the furcation feels like a groove, but without any noticeable bone loss;
Class II: a depression of about two or more millimeters develops indicating definite bone loss;
Class III: Â bone loss now extends from one side of the root to the other, also known as "through and through."
Treating furcation involvements can prove challenging because the infection is usually well below the gum line (sub-gingival). As with all gum disease treatment, our primary approach is to remove all plaque and calculus (hardened plaque deposits) where we find it, including around the roots. We typically use specially shaped instruments to clean the root surfaces. We can also employ an ultrasonic device that loosens plaque and calculus with high-frequency vibrations and flushed away with water.
Sometimes, we may need to surgically access involved furcations to clean them and stimulate bone growth with grafting. We can also use surgery to make the areas easier to clean — both for you and for us during your regular office cleanings — to prevent reoccurrences of infection.
Of course, preventing gum disease in the first place is your best defense against oral problems like furcation bone loss. Be sure you brush and floss every day, and visit us for thorough cleanings at least twice a year (unless we recommend more). This will help make sure not only your gums, but the bone that supports your teeth stays healthy.
If you would like more information on treating periodontal (gum) disease, please contact us or schedule an appointment for a consultation. You can also learn more about this topic by reading the Dear Doctor magazine article "What are Furcations?"
By contactus@dentalimplantperio.com
February 24, 2018
Periodontal Disease and the Inflammation It Causes
Periodontal disease (also known as gum disease) is a chronic inflammatory condition in which plaque bacteria accumulate below the gum line. Over time, the inflammatory response to the bacteria can cause the eorision of gum tissue and supporting bone. If left untreated, periodontal disease can lead to tooth loss.
The good news is that through such treatments as scaling and root planing, Dr. Cristoforo at Dental Implant and Periodontal Speacialists can help you reduce the inflammation in your gums. There are a few things you can do at home as well to help reduce inflammation in your mouth and throughout your entire body.
Diet
Foods rich in omega-3 fatty acids - including oily cold-water fish (salmon, tuna, herring, or sardines) and walnuts - have been found to reduce inflammation. The body doesn't produce these acids naturally, and they can come only from consuming certain foods. Additionally, antioxidant-rich green tea has been shown to reduce inflammation in the body.
Exercise
People who exercise regularly demonstrate fewer incidences of periodontal
diseasethan those who do not. While moderate exercies may help reduce inflammation in your obdy, extreme exercise (such as running marathons) can actually increase systemic inflammation. Exercise also reduces stress, another risk factor for periodontal disease. Stress has a negative impact on the body's ability to fight infection and inflammation.
It's a very good idea to discuss your exercies plain with a health professional to ensure that it's a good fit for your lifestyle.
Brushing and Flossing
The American Academy of Periodontology (AAP) recommends brushing twice a day and flossing once a day as a part of a daily oral health routine. You should also undergo a comprehensive periodontal evaluation every year to assess the health of your gums.
If periodontal disease does develop, your periodontist Dr. Cristoforo can develop an effective treatment plan for your unique needs.
Other Systemic Conditions and Periodontal Disease Development
Research suggests that periodontal disease shares an association with systemic conditions such as diabetes, cardiovascular disease, pregnancy complications, and rheumatoid arthritis.
The AAP recommends that if you are living with any of these conditions, it is important to notify your periodontist about your medical health history. Likewise, if you are diagnosed with periodontal disease, you should make your physician aware and create an informed care team that can manage both our oral and physical ailments effectively.
INFORMATION IN THIS BLOG IS A COURTESY OF PERIO.ORG, WHICH GIVES PERMISSION TO SHARE CERTAIN ARTICLES WITH THE PUBLIC.
The American Academy of Periodontology Patient Page is a public service of the AAP and should not be used as a substitute for the care and advice of your personal periodontist after a thorough exam. There may be variations in treatment that your periodontist will recommend based on individual facts and circumstances per patient. Visit perio.org to assess your risk and for more information on periodontal disease.