Posts for tag: tooth decay
By Dental Implant and Periodontal Specialists
February 13, 2018
For over a century dentists treated tooth decay by removing both diseased portions of the tooth and healthy structure deemed at risk for future decay. In the 1970s, though, a new approach emerged, known as Minimally Invasive Dentistry (MID). This practice protocol attempts to preserve as much of the healthy structure as possible.
Before MID, dentists followed a decay treatment protocol developed in the 19th Century. A part of this became known as extension for prevention calling for dentists to remove healthy structure considered vulnerable to decay. Besides reducing the tooth's volume, this practice also resulted in, by today's standards, larger than necessary fillings.
It was thought that removing this additional material would make it easier to clean bacterial plaque, the source of decay, but later, research showed the practice couldn't guarantee the teeth wouldn't be reinfected.
Since then we've learned a lot more about teeth and have developed new ways to detect decay at earlier stages. X-ray imaging, for example, has transitioned largely from film to digital technology, providing more detailed images at greater magnification. This, along with laser fluorescence and infrared cameras, has made it easier to detect the first tiny stages of decay.
We can also limit tooth decay damage by boosting enamel strength with fluoride applications and sealants or reducing decay-causing bacteria with anti-bacterial rinses. We've also seen advancement in techniques like air abrasion that remove decayed tooth material while leaving more healthy structure intact better than using a traditional dental drill.
Restoring teeth after treatment has also improved. While dental metal amalgam is still used for some fillings, the main choice is now composite resin. These new tooth-colored dental materials require less tooth preparation (and thus less material loss) and bond well to the remaining structure, resulting in a stronger tooth.
Following a MID protocol leads to less intervention and less time in the dentist's chair. It also means preserving more of a natural tooth, an important aim in promoting long-lasting dental health.
If you would like more information on minimally invasive dentistry, please contact us or schedule an appointment for a consultation.
By Dental Implant and Periodontal Specialists
January 29, 2018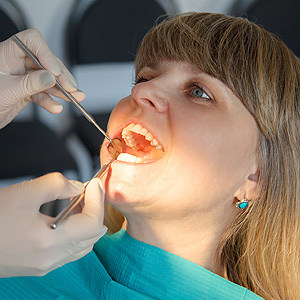 Since the late 19th Century, dentists have used established protocols to successfully prevent and treat tooth decay. But there've been changes to this approach the last few years to improve its effectiveness, changes we now refer to as Minimally Invasive Dentistry or MID.
The older approach for treating dental caries (tooth decay) follows the protocols established by Dr. G.V. Black, considered the father of modern dentistry. Black advocated removing not only decayed structure but also some of the healthier but vulnerable portions of a tooth, to avoid further decay and make the tooth easier to clean. This resulted in larger fillings, although they've become smaller as dental techniques have advanced.
MID, on the other hand, aims to remove as little tooth structure as possible while still effectively treating and preventing future decay. To achieve that goal we begin first with a complete assessment of a patient's individual decay risk, known as Caries Management By Risk Assessment (CAMBRA).
With CAMBRA, we're looking at other factors besides individual tooth health: a patient's hygiene, lifestyle and dietary habits; the types and amount of bacteria present; and the quality of saliva flow, needed to neutralize mouth acid. With these the results we develop a customized prevention and treatment strategy.
MID also focuses on detecting dental caries as early as possible. Besides traditional x-rays, we're beginning to use other methods like dental microscopes, laser fluorescence, infrared photography or optical scanning. Early detection leads to early intervention, and with techniques that are much less invasive than the traditional approach.
The new approach also changes how we repair decayed teeth. We're increasingly using air abrasion, a technology that uses fine particles in a pressurized air stream to remove softer decayed tooth material and less healthy structure than the traditional dental drill. We're also using composite resin and other advanced materials for filings: these tooth-colored materials are stronger than previous versions and are quickly taking the place of metal amalgam, requiring less structural removal to accommodate them.
MID's core principles are early disease detection, proactive prevention and treatment with less structural removal. With this enhanced approach to effective dentistry, we're keeping your teeth healthy with minimal discomfort, lower costs and less long-term impact.
If you would like more information on the benefits of the MID approach, please contact us or schedule an appointment for a consultation.
By Dental Implant and Periodontal Specialists
October 30, 2017
Humanity has been waging war against tooth decay for millennia — with this relentless opponent often getting the better of us.
Over the last century, however, significant treatment advances have turned the tide of battle in our favor. Perhaps the greatest of these advancements is our deeper grasp of the disease process — new understandings that have altered our treatment strategy. Rather than wait for cavities to occur and then repair the damage, we now focus on stopping the damage from occurring in the first place.
Prevention starts by reducing factors that contribute to tooth decay. We can signify these detrimental factors with the acronym BAD:
Bad Bacteria. Millions of bacteria inhabit our mouths at any one time, but only a few strains produce the acid that causes decay. We want to reduce their population by removing dental plaque (where they feed and grow) through daily brushing and flossing, and, at a minimum, semi-annual office cleanings.
Absence of Saliva. This important fluid neutralizes acid and strengthens tooth enamel. Some people, however, suffer from reduced saliva flow. We want to find the cause (for example, a side effect of certain prescription drugs) and then improve saliva flow.
Dietary Habits. A diet heavy in sugar and acid (particularly sodas and soft drinks) gives bacteria a ready food source and increases the mouth's acidic level. Chronic high acid levels in particular are often too great for normal saliva flow to overcome and neutralize. Reducing the amount and frequency of these food items creates a healthier oral environment.
Reducing BAD factors is only half of our prevention focus. We also want to promote SAFE factors that enhance tooth health and strength: Sealants, especially for children, that shield tooth surfaces from decay; Antimicrobial rinses that target and rid the mouth of acid-producing bacteria and give healthy bacteria room to develop; Fluoride, a proven enamel-strengthening chemical available in dental products, many drinking water systems and as a topical application in dental offices; and an Effective diet that's rich in nutrients and low in sugar and acid as already mentioned.
Keeping the focus on reducing BAD factors and promoting SAFE factors will greatly increase your chances of personally winning the war against tooth decay.
If you would like more information on the prevention and treatment of tooth decay, please contact us or schedule an appointment for a consultation. You can also learn more about this topic by reading the Dear Doctor magazine article "Tooth Decay: How to Assess Your Risk."